The brake system for your vehicle plays a very important role and it should be inspected routinely to ensure that your brakes work when you need them most. A typical brake system is made up of many components that rely on each other to work properly to ensure proper braking. The combination of hydraulic pressure and friction from the pads, rotors, shoes, and drums is what allows your vehicle to stop. The following diagram shows different brake components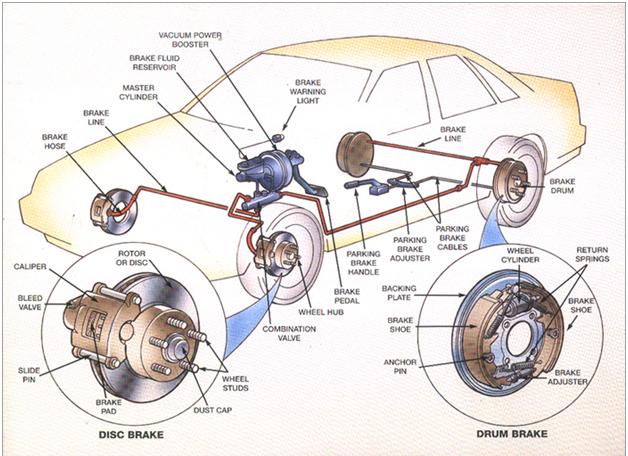 A brake inspection is recommended every 12 months or 20,000 kilometers to ensure that your components are wearing evenly and to make any minor adjustments to the parking brake cable.
You should come in for a brake inspection if you notice:
Any irregular noise or squealing upon braking
If your brake pedal feels spongy
You notice that your brakes are not as responsive
If you are feeling a pulsation in the pedal while braking
The vehicle pulls to one side while braking
If a brake warning light has illuminated on your dash
There are many factors that contribute to how frequently you can expect to replace your pads, rotors, shoes and drums.
Such factors include:
 The weight of the vehicle, the heavier it is, the more friction it takes to stop, means more wear.
Driving conditions, more stop & go city driving, means more wear.
Driving with your foot over the brake, means more wear.
The aggressive, quick stopping driver, means more wear.
Did you know that the front brakes handle 70% of the braking?
So it is not uncommon to have to replace the front brakes more often than the rear. In most cases the brake rotors and brake drums can be machined/resurfaced once before having to replace them. Should the rotors or drums measure too thin, or if they are cracked/chipped then machining/resurfacing is not an option, they would need to be replaced.
When it comes to the material or types of brake pads, the two most common choices are Semi-metallic and Ceramic. The Semi-metallic is made of a harder material which tends to wear slower. Most vehicles come with Semi-metallic pads from the factory so finding a replacement set from the aftermarket is easy. Semi-metallic pads are often a common choice for consumers as they are the price friendly option.
Ceramic pads on the other hand, can handle higher temperatures with less heat fade and offer a faster recovery, which is great for the sports cars. Ceramic pads tend to be less noisy than the semi-metallic pads.
Do you have expensive rims or hate seeing your rims covered in brake dust?
If you answered Yes, then you may benefit from using ceramic pads
How will Canadian Auto Mall fix my brake problems?
If you do have a problem with your brakes, we'll test your brake system, determine the cause of the problem, and provide you with our recommendations and all of your options before we begin any repairs. If you decide to let Canadian Auto Mall handle your brake job, we'll fix or replace only what's necessary using MAP guidelines.